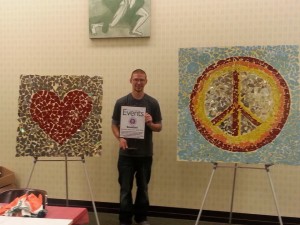 Come JOIN US!
Our bookfair will be held on Saturday, May 17, 2014 at
Barnes & Noble Ithaca
614 S. Meadow St., Ithaca NY
Saturday, May 17, 10am-5pm:  Join us for a LIVE art demonstration in support of Dream Catalyst!  This organization supports youth in CREATING PEACE ONE PIECE AT A TIME!  Attendees will be able to create a mosaic out of violent video games and other repurposed video game materials!
If you can't attend the bookfair at the Ithaca location, please visit BN.COM/bookfairs to support us
online from 05/17/2014 to 5/22/2014 and entering Bookfair ID 11372224 into the box at checkout.